I am one 8-page paper, two reflection essays, and one group presentation away from the end of another semester of grad school. Which, upon completion, will bring me to the halfway point of my degree.  Midpoint. A small speck of light visible down yonder. Across the holler. Or something. Which is clearly why I'm piddling around here, pining for the dulcimer and Christmas dreams of days gone by.
Yesterday at church, we sang a song that seized my attention, and made me think "This is what we will sing in Heaven. This." It conjured up images of  heaven as a real, live, beautiful place, and not just a floaty hangout in the clouds that uses the same set decorator as TBN. Sorry. But much of my childhood was spent being terrified of spending eternity looking for people I know, while pink-haired ladies sat around in gilded chairs.  I digress.  Anyhow, on my drive to school today, I re-listened to the song, Chris Tomlin's He Shall Reign Forevermore.
Maybe you've never heard of it, or maybe you heard of it twelve years ago, or maybe you don't care.  For me, though, what particularly struck me this morning was not the holy image of heaven, but the twangy sounds of the dulcimer. Or, what, to my untrained ear, sounded just like the dulcimer.
Every December during my adolescent years, my family visited Silver Dollar City, in Branson, Missouri.  We went in the spring and summer too, and often several times, because my aunt and my grandmother both worked there.  During the regular tourist season of March-October, it was more of an ordinary theme park with added Ozarky crafts and delicious food and it was pretty special, but also sort of similar to other theme parks across the country.  But at Christmastime, for as far back as I can remember, well, Good Night, Nurse. They pulled out all of the stops. Twinkle lights covering everything without a pulse. Wassail and Gingerbread houses and talking Christmas trees. Christmas carolers dressed in turn of the century costumes. A nightly Christmas Tree lighting complete with choreographed lights and music. A Christmastime visit wasn't complete without  the sing along train-ride, which ended with by an kindly old man, whose vocal timbre was akin to that of Burl Ives, reading the Christmas Story from the book of Luke.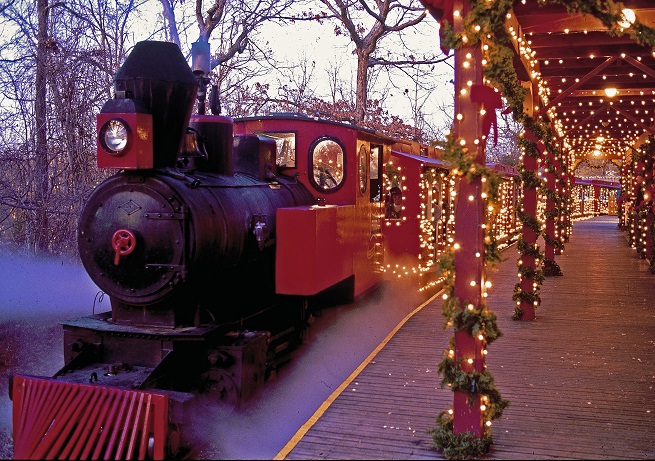 It smelled like winter. It smelled like optimism and cinnamon and gingerbread and Peace on Earth. And just when your fingers were nearing frostbite and you'd had your fill of Wassail and had absorbed just  about all of the Christmas cheer you can handle for the evening, it was time to go.  Wisely, all departing traffic was herded through a "marketplace" for last-chance shopping. And in keeping with the Ozark mountain theme, there was a place to buy dulcimers. Right there, in between the name keychain racks and Fudge-To-Go counter.  Dulcimers don't sell themselves, though. So there was always someone playing, luring those of us still filled with optimism and hope toward its siren song.
This morning, when I heard the familiar strains of the dulcimer, I was transported back to my childhood and teenage years. Christmas seems a lot more magical when you are on the receiving end of the magic. When you don't have house payments and orthodontist bills to think about. My mother has always had a magical quality, perhaps a cross between an angel and an elf, that enabled her to turn our home into a wonderland. Garland and lights and candles and music and the smells of Christmas. With Mom's help, (okay, it was mostly ALL her, with me as the willing laborer)I have tried to re-create that in my own home, but it is many times littered with dirty socks and Pokemon cards and half eaten Pop-Tarts. It sometimes seems like I am the only one who notices that objects from our everyday lives are getting in the way of the COZY CHRISTMAS CHEER. Now that I think about it, though, the warmth  of the season and the inviting decor growing up was a backdrop, but I never thought too hard about the effort that she put into getting it that way.
Right now, the schedule is packed with band concerts and Christmas parties and shopping and cheer. There is not too much wiggle room. We'll probably give Six Flags a halfhearted try, mostly because we have leftover tickets from the summer that we haven't used. But for all of my Missouri friends, living it up at the Old Time Christmas in Branson.....I'm homesick, and living vicariously through you.  Listen to some dulcimer music for me, would you?